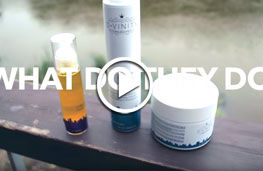 From Estonia comes a re-view of Dvinity Anita Sibul, blogger specializing in fashion and beauty, gives us his opinion on three products D · Vinity
The Cocktail & the Ingredients
• The sweet almond oil stimulates the production of collagen and elastin, acting as a natural hair regenerator and emollient.
• Arginine , an essential amino acid with revitalizing properties. Increases hair resistance to breakage, restructuring fiber, nourishing the bulb and stimulating hair growth.
• Armocare , acts as a natural conditioner, making the hair easier to untangle and providing shine to the hair.
• The grape extract provides essential fatty acids to the hair, giving shine and a healthy look.
• Hydrolyzed collagen and keratin , restructure keratin chains, regenerating damaged parts of the hair. Easy styling, thanks to its antistatic properties.
• Shea Butter and polyquaternatium-11 that provide extra conditioning, improving both dry and wet hair combing. Helps to define and fix the curls
• The vegequat , conditioner with antistatic properties that repairs and restores damaged hair, especially fine and curly.
• Urea, a capillary moisturizer.
• addition in the formula contains conditioners, glycerin and mild surfactants, which provide smoothness and shine to the hair, improve untangling and reduce static electricity.
For an optimal hair care
For a total care of your curls, we also recommend to use :
• The Sweet Curl Shampoo minimizes frizz for soft, touchable, beautiful-looking curls..
• The Sweet Curl Mask for shiny, nourished and bouncy curls.