News
Beardburys Fade Boost, new international recognition
Published on May 15, 2020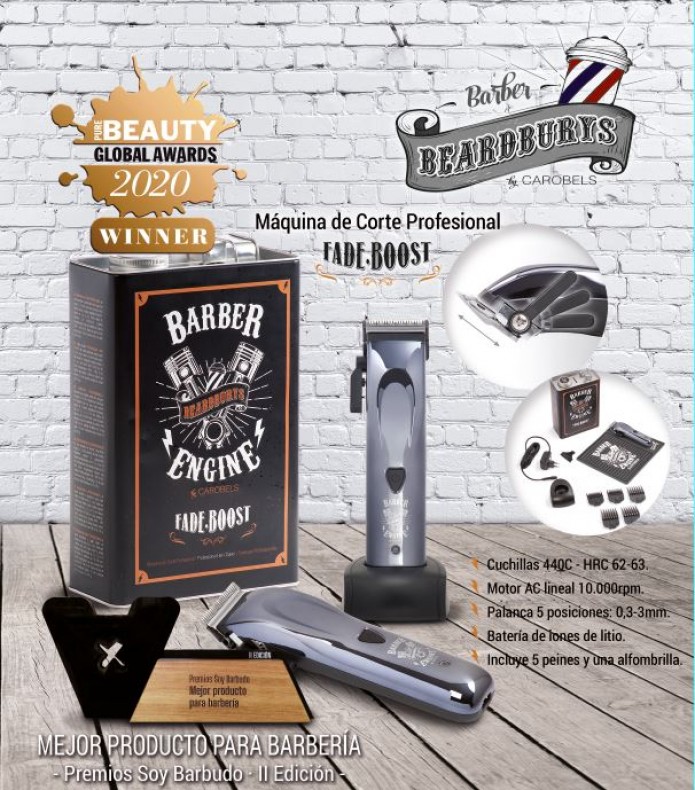 The Beardburys Fade Boost cutting machine wins the Pure beauty Global Awards
On May 14th, the Pure Beauty Global Awards gala took place virtually, where BEARDBURYS was awarded the Best New Male Shaving and Hair Product Award, thanks to its professional BEARDBURYS Fade Boost cutting machine.

A very close award, was competing with more than 300 companies among which were multinationals such as Rituals , Foreo , Bioderma , Molton Brown , Ghd , Schwarzkopf ... This award is a great recognition of our efforts in innovation and our enthusiasm and teamwork.

This Beardburys cutting machine, already obtained a great recognition in November 2019, receiving the prestigious award of "Best Barbering Product" given by the magazine SoyBarbudo.

The Fade Boost cutting machine stands out for: 

- Power: It is one of the most powerful cordless haircutting machines thanks to its linear motor that is capable of reaching 10,000 RPM 

- Head + Blades:  The head of this cutting machine is made of the highest quality Japanese steel Type 440C and its blades reach a hardness of 62-63 HRC

- Lithium-ion battery: Its battery has the capacity to last more than a full day, making it the perfect cutting machine for the most demanding barbers.

- Design: Inspired by the world of the motor, the packaging of this powerful machine simulates a premium can of motor oil, and really makes the delights of professionals. 

From Carobels/ Beardburys we want to thank this recognition to Pure Beauty Global Awards, and its jury, who another year, have given us the opportunity to improve ourselves and continue innovating our products. Thank you to all our customers and collaborators for the trust you have placed in us and for your loyalty.

We will continue working to meet your expectations and, if possible, even exceed them.  Thank you! 


Ver el video de presentacion de la Maquina Fade Boost de Beardburys. 
Documentation attached

Back