News
Beardburys Streamer Gun: Technology at the service of hairdressers and barbers in the face of the
Published on May 26, 2020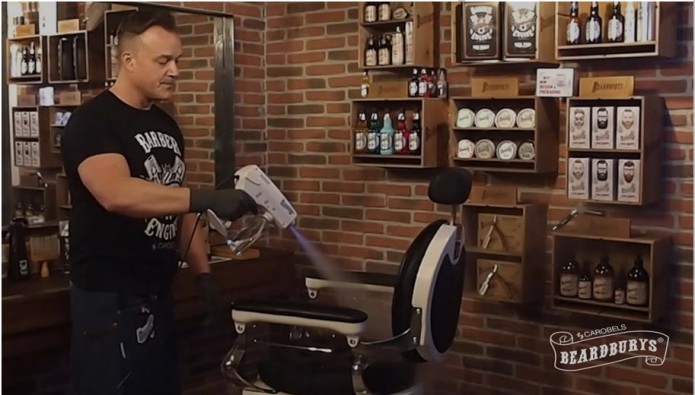 La empresa leonesa Carobels desarrolla en 30 días una solución innovadora, practica y efectiva para que los peluqueros ofrezcan un servicio profesional, con garantías higiénicas en un entorno seguro en sus salones.
· The hairdressing sector in Spain has more than 48,000 salons and employs more than 150,000 workers directly.
· The current circumstances due to the Covid 19 pandemic, have highlighted the need to make available to beauty salons and barber shops the tools and hygienic products that allow to clean and disinfect the workstations.
Beardburys, the line of male grooming from the Leonese company CAROBELS COSMETICS, also faces the challenge of returning to normal. One of the values that marks the day to day of Beardburys is the innovation. And to respond to the current situation in the sector, it has developed a new tool that will be indispensable for carrying out daily activities. The Streamer Gun is a spray gun that allows the cleaning and disinfection of the workplace and utensils in a fast, efficient and safe way between client and customer. So hairdressers and barbers can provide a professional, reliable service with hygienic guarantees, while offering users the security and confidence to adapt to the new normality .
The hairdressing sector in Spain, according to data provided by Stanpa (the National Association of Perfumery and Cosmetics), has over 48,000 salons. Most of them are micro-companies and self-employed professionals, employing more than 150,000 workers directly. In order to be able to reactivate their daily activity, it is essential to provide them with the necessary tools so that they can exercise their profession in a safe environment.
During the last 40 days, the Leonese company Carobels has been working on different hygiene products. Beardburys takes a further step and commits itself to its customers, expanding its portfolio with this type of product, among which the Streamer Gun stands out. A tool that performs a microscopic nebulization to disinfect in an efficient and safe way, as well as economic , to support the new reality that the Spanish sector is facing in these complicated moments.
In only 18 months since its creation, Beardburys has managed to position itself as one of the leading firms in the hairdressing and male beauty sector. Their comprehensive range of professional products is characterized by innovation, the use of natural ingredients that respect hair health and the development of handmade formulas.
Click here to see the demonstration video. 
Related Links

Back