News
The first barber-container, a place chosen by the best barbers in our country.
Published on October 03, 2018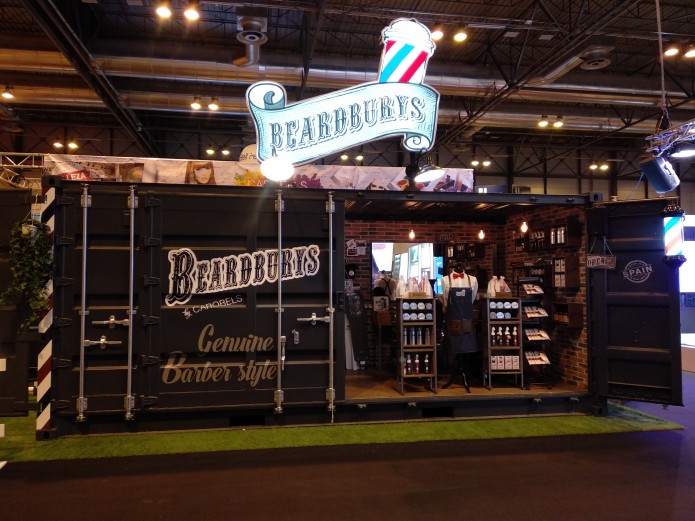 Beardburys attended Salón Look with its barber-container, a maritime container transformed into a classic barber shop.
The Spanish barbering brand Beardburys presented its latest products and tools at Salón Look
for barbers.

The main key to the success of today's barbershop is having known how to reinvent itself by maintaining the essence of tradition, but bringing a transgressive and innovative point. Adapting the techniques to the new styles, always with the accent on the image. Seeking to offer more than just a service, an experience.
And those same qualities are what guide the roadmap of Beardburys, the brand of barbershop made in Spain with the most complete line of the market. All its products perfectly combine traditional formulas with technological innovation. And now, taking advantage of Salón Look, held from 28th to 30th September, Beardburys wanted to go one step further, letting these values flood its entire image at this fair, the most important in the sector in our country.


Their presence at the fair was presided over by a container transformed into a vintage-style barber shop. A sample of the eagerness of the barber brand to maintain the genuine essence of its profession while experimenting, innovating and betting on a groundbreaking image.
This original barbershop has been the place chosen by 11 of the best barbers in our country to carry out a live show in which, throughout the Salon Look fair, they demonstrated their best techniques and tricks. A unique stage for incomparable professionals.


Beardburys put all the meat on the grill to offer a complete experience to the professionals who visited their stand (7D20), equipping the barber-container with a bar where the bartender offered drinks to the attendees, and a garden area where they could enjoy the company of other professionals in a more relaxed and enjoyable way.

During the fair, Beardburys presented its latest launches in products and tools for the barbershop. A presentation that has generated great expectation after winning this year's First Prize for Best Innovation at the Pure Beauty Global Awards held in Dubai with its line of hair treatment for bald people, Doctor Bald
The brand belonging to the CAROBELS group, which already has the most complete line of barbershops, comes with new hair treatments, fixing products and tools suitable for the most demanding techniques.

Back