Tips & Tricks
Tips for making your luggage
Published on June 13, 2017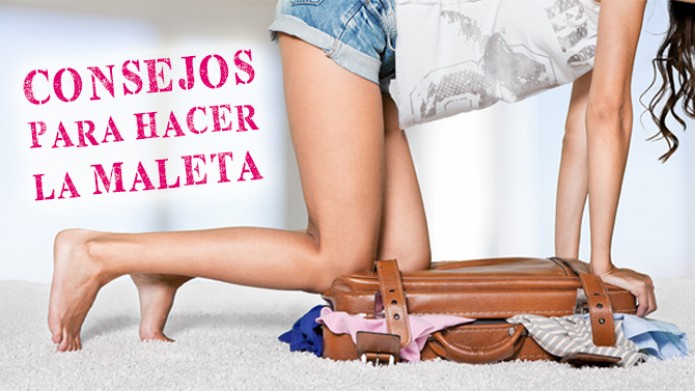 Only a week from the official start of the summer we all have the holidays in our minds. Thinking about the places we are going to visit, the friends that will accompany us or the new experiences that await us, we love it. However, not everything is wonderful: to think about what to put in the suitcase is a nuisance, especially when we talk about beauty products. Always doubting what we can put in the carry-on luggage, how to make it fit for us, do not damage our luggage along the way...

Do not worry because today we bring you some very easy tricks to make the perfect suitcase in which to carry with you to any side all your beauty tools.





1. Less is more: space is the key. Especially when we fly, the size and weight of the suitcase is a problem. To take advantage of your hand luggage, you must follow two indispensable rules. First, roll the clothes because it is the most efficient way to transport it without it creases and also takes up less space, our aim in order to be able to put more beauty tools. Second, fill the suitcase from side to side rather than from the bottom to the top. In this way, the clothes are better distributed, take up less space and are easier to pull out without having to undo everything.





2. Size does matter: there are numerous objects that we can use in travel format and gain like this a lot of space. We only go for a few days and that size will be enough. For example, straighteners and hairdryers. The travel formats are so small that you will not have to give up taking them with you and be perfect anywhere. The Chroma mini-hair straightener is a super reduced size and lightweight professional iron. The mini-hairdryer 3300 of only 11 cm includes diffuser and nozzle. It is also very important in liquids, which for security reasons can not exceed 100ml. D·VINITY has created the travel format for its most delicate shampoo, Soft Care, suitable for children and sensitive hair. Get beauty salon results and do not leave your hair in the hands of hotel shampoos during the holidays.





3.Use ingenuity: sometimes we can change the usual use of things and get very creative solutions. Fluid make-up, liquid concealers or eye contour can be carried inside a lenses container, pouring a small amount of them into each of its two compartments. For facial cream we can use straws sealed on both sides. A lightweight applicator that barely takes up space. Use pill boxes to carry your earrings and more delicate details.





4. Travel safe: do not let an unlucky incident ruin your luggage. We all know that suitcases are "battered" during travels, they are shaken and beaten. That is why it is best to protect liquids from spilling. Introduce your toiletries in plastic bags. Wrap cans with transparent film as a seal. If you do not have it handy, some tape around the plug will be enough. Protect your powder compact and eyeshadows with cotton, if you fill the space up to the lid they will not come out of their spaces or break. Insert pencils and eye masks between the coiled clothes so they do not hit or tie them together to make them more tough.

Back