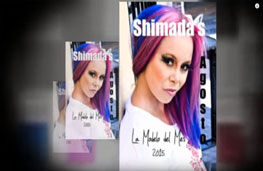 FABULOUS LOOK BY SHIMADA KEMP
Benefits of the Product
• The colouring of Tonology ensures a perfect coverage and intensity of the colour.
• The cosmetic components of Tonology help improving the hair general state.
How to use the product?
Tonology pure pigments does not require the addition of peroxide. For optimal results apply to prelightened hair.
Way of Use
After shampoo, towel dry hair and apply Tonology Pure Pigments evenly over hair (wear gloves). Leave for 15-30 minutes, then rinse thoroughly.
Advices to colour & take care of hair
For more comfort during the application of Tonology hair dye and for a better maintenance of the colour, Tonology recommends:

• To use protective anti-stain oil for dyes, Tonology Oil-Roll, on the outline of the hair in order to avoid staining the scalp. Thanks to its special anti-drip design, the product application and the skin protection during the colouring process are improved .
• Use products of D-vinity Wild Berry Cosmo to maintain the colour.
Documentation attached