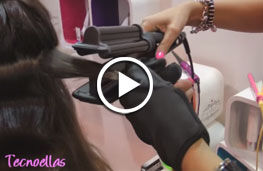 How to use your Deep wave iron to create trendy waves In this Tecnoella's video you will see how you can do water waves with simple tips.
General Features
● Ceramic resistors: Rapidly hot, Deep wave is ready to use in only 55 seconds. Its ceramic resistors maintain a homogeneous temperature all along the barrel.
● Ceramic-tourmaline technology: The barrel of Deep Wave presents a ceramic and tourmaline covering in order to better maintain the temperature and to emit ions, very benefical for the well-being of the hair.
● Ionic state-of-the-art technology that emits millions of negative ions.
● Infrared technology (FAR): The new resistors of the iron by Sculp heat up the hair from the inside, improving its aspect as well as the duration of the hairstyle.
● Sculpby Deep Wave has a digital temperature control with LCD screen (140ºC-230ºC), adaptable for all type of hair.
● The cold tip of security allows you to hold the appliance during the creation of curls. Deep Wave also includes an original thermal glove by Kevlar, perfect to hold the hair together with the appliance without getting burnt.
● The curly iron incorporates a 3-metre swiveling cable (360º).
For an optimal hair care
• Sculp advises you to use the thermal protector Xpyrence Warm To Works. This amazing product starts running with the heat of the plates, penetrating and hydrating the hair while combing. It avoids frizz and presents an anti-humidity action.
Complements
● It includes a thermal finger glove to make it easier to use.
Documentation attached