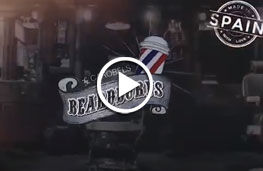 Disinfectant liquid video In this video we explain how to use the Pitcher and disinfectant liquid for all your hairdressing and barbering tools.
Benefits of the Product
Disinfect all your hairdressing utensils after each use. This sanitary range sanitizer that disinfects
General Features
Limoseptol PLUS is a sanitary disinfectant, Bactericide, fungicide for all kinds of utensils and tools. It is suitable for sanitary use and therefore a fabulous disinfectant for use in your hairdressing salon or barber shop.

· It has a pleasant smell.
Virucidal
· Aldehyde with last generation quaternary ammoniums.
· It has no phosphates.
· It is not corrosive.
Way of Use
1. Dilute the mixture using one part of the Limoseptol plus Barber and Hairdressing Disinfectant for every 100 parts of water. You can deposit the mixture of this liquid in the Beardburys Cristal cleaning cup container. If you use the sterilizing jar for barbershop put 10ml of liquid for every liter of water.

2. Remove all debris from the tool and wash it with a cloth or water.

3. Put the tools in the Beardburys sterilizing jar for 10 minutes. The sterilizing jar includes a removable draining basket that allows you to remove clean and disinfected tools.

4. Dry your tools with an absorbent napkin or roll to remove all moisture.

5. Use the disinfecting liquid and the sterilizing jar from Beardburys for all the tools you want to disinfect metal or plastic. (Scissors, combs, razors ...)
When will it be available?
Available from May, for more information contact us.